A first-generation American filmmaker with Kashmiri roots connected with his father in a way he never did before, through his debut feature film. Musa Syed tells Aniruddha Guha how he renewed his relationship with his father… and with Kashmir.
Musa Syed remembers the sense of joy he felt when he saw his father weep for the first time in his life.
Born and raised in Kashmir, Syed's parents left for America in the '70s and never returned. His father, who was once taken prisoner in the troubled region, had never really opened up to his son about that experience. Decades later, as Syed's father saw Kashmir through the eyes of his son in the filmmaker's debut feature film,Valley of Saints, he cried.
It was his father who took the US-born Syed to a movie theatre for the first time when he was eight. The film was Malcolm X. That the event is still clearly etched in Syed's mind 20 years later is a testament to the impact the film had on his younger self.
His parents weren't film buffs so Syed's only window into cinema was through newspaper articles and magazine reviews. "My parents would have seen five-six films in the theatre in their entire lives," he says. But he remembers Malcolm X. "It was the kind of film my father would relate to: a member of the minority community in America, fighting for his community."
Syed completed film school and proceeded to direct several documentaries on the lives of different minorities in America; it's clearly a theme he's comfortable with. But the idea for a feature film came from somewhere deep within. It was a question of his identity. "Many 20-year-olds think about where they fit in the world. Immigrants in America always question their identities." So did Syed.
The filmmaker wanted to renew his relationship with Kashmir. "Making this film seemed the best way to do it," he says.
Syed had never been to Kashmir. He had only read about it in newspapers and heard accounts about its legendary beauty from his parents. No wonder then that the initial draft of his script was primarily based on internet research. "I was writing about life on the Dal Lake from my imagination. My mother lived along one of the canals that merges into the lake, so she was a real help. It was fascinating to hear from my parents what it was like to be a young couple in Kashmir."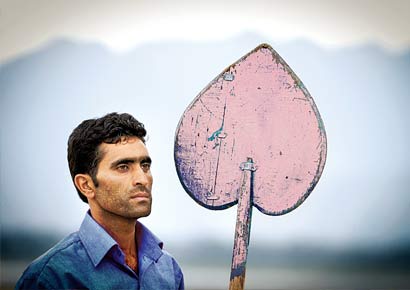 Valley of Saints is a story of the tender bond that builds between a boatman on Dal Lake, who was obsessed with leaving the Valley for New Delhi in search for a better life, and a Kashmiri-American environmental researcher.
The filmmaker secured funding on the basis of the initial draft but things changed when he landed there.
Syed found the Kashmir his parents remembered was a lot different from the one he encountered. Their romantic notion of the Valley was replaced by a more grim reality. "My cousins who grow up there in the '80s only know the violent side of Kashmir. The conflict continues." His film attempts to reflect the point of view of a generation that isn't just aware of the conflict but is trying to think of ways to resolve it — a generation that wants to leave behind troubled times.
Spending time in Kashmir changed the way he approached his film. Since shooting in the open was tough, locations were changed. It was difficult to find too many actors, so the story was rewritten around the three main actors – Gulzar, a real-life boatman who plays himself, his friend Afzal, and an American scientist of Kashmiri origin studying the environment.
The crew shot actual protests, put Gulzar in real-life conflict scenes and then integrated them into the narrative. "We had a small crew, but the entire Dal Lake community became part of the shooting process. They'd hold reflectors or balance the boom mic. The lake was our safe haven."
Now, after spending an entire year making the film in Kashmir, Syed feels less like an outsider.
"Discovering life in Kashmir brought me closer to my roots. It helped me understand the people and their daily struggles. It makes me want to do something to help them. My film recognises that Kashmiri culture and identity can still be unique and vibrant, even with strife all around. There needs to be a way to express the problem without shouting slogans. I am trying to facilitate a conversation through my film."
Valley of Saints has done the rounds of the Sundance, Busan, Hamburg festivals and the recently-concluded Mumbai Film Festival, where it won a Special Jury Prize. But none of the accolades he received at any of these festivals could match the joy he felt when he watched his parents, especially his father, react to his film.
"I had never seen my father cry before. I have a very open relationship with him, yet there are some things we hadn't spoken about, like the reason he went to prison. Through Valley Of Saints, I communicated with him in a way not possible before. It opened space for a dialogue between us. I couldn't have asked for anything more."
(This piece was originally published in DNA in 2012)
Aniruddha Guha (@aniguha) is a film critic and journalist, formerly of DNA and Time Out Mumbai. His video reviews can be seen at Dedh Minute Review.